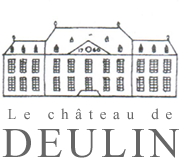 EVENTS TO COME
---
Autumn fair 2018 - 6, 7, and 13, 14 of Octobre 2018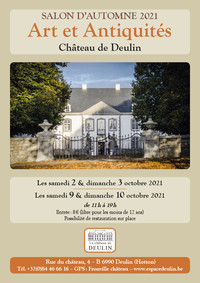 Stéphane and Simon de Harlez de Deulin with their antique dealer friends invite you to thier Automn Antique Fair
Saturday and Sunday 3 & 4 of October 2021
Saturday and Sunday 10 & 11 of October 2021
from 11am till 7pm.
Our exhibitors:
Pierre-Emmanuel Beguin (Château) - Bijoux et art de la table.
Arnaud et Sylvie de Spa (Château) - Jolités de Spa, objets, meubles et tableaux anciens.
Franck Van Laer (Château) - Mobiliers et objets de décoration du XVIIIè et XXè siècle.
Galerie Le Tout Venant (Château) - Estampes anciennes, modernes et japonaise.
Luc Decruyenaere (Château) - Archéologie et argenteries.
Ian Panné (Château) - Orfèvrerie ancienne.
De Cock Antiques (Chapelle) - Mobilier Anglais.
Bertin Verstraete (Chapelle) - Lustrerie.
Simon de Harlez de Deulin (Orangerie) - Mobiliers suédois.
Etienne Roland sprl (Anciennes Ecuries) - Kilims, textiles anciens et sièges en kilims ancien.
Bie Bart (Grange) - Objets insolites et excentricités.
Libertas Gallery (Grange) - Tableaux de maîtres du XVIIè au XVIIIè siècle.
Anthony Short (Grange) - Mobilier anglais.
Cedric et Stein Moermans (Grange) - Objets anciens de curiosité et cannes de collection.
Wolvesperges Art & Furniture (Grange) - Mobilier et objets d'art.
Galerie Framing (Grange) - Peinture et sculpture du XXè au XXIè siècle.
Artiste invité: Ghislaine Jewellery (Grange) - Haute jowallerie et pierres non montées.
Restaurant al day long situated in the Tower
Entrence fee: 8€ (free for under 12 years old)
---
The Chateau is listed as an exceptional Walloon heritage site and is a typical example of the architecture from Liège. Built in whitewashed bricks and blue stones, it forms a harmonious architectural entity. The events take place in the Chateau's beautiful independent outbuildings. Stéphane de Harlez de Deulin, very professional and a passionate antique dealer, restored this building and made it a venue dedicated to special events with a great respect of the existing heritage and the beauty of the site.
The property extends over 24ha and consists of French gardens, waterways and woods. This presents you with a wide variety of choices when planning your event. The Chapel, forming part of the Chateau, is dedicated to Saint Remacle (approximately 100 people).
Accommodation is available in the bedrooms dating back to the XVIIITH century.
It is possible to access the venue a few days prior to your event for organising and planning.
We will not hire any other part of the property during your event (wedding, team building meeting, seminaries, etc…) to respect your privacy and make your event unique and tailor made for you.
---

Close

Open